What evidence is good enough and what is it good for?
We are very pleased to invite you to join us at an event for digital inclusion projects in the UK.
Date: Wednesday 13 January 2021
Time: 12.30 pm -14.00 pm (GMT)
Location: Zoom
COVID-19 has highlighted the dramatic social, educational, health and economic impacts of digital exclusion. The pandemic has also led to many innovations designed to tackle the digital divide – from the provision of laptops to support home-schooling during lockdown to grassroots initiatives setting up digital solutions to address loneliness and isolation. As a result, the need for rapid responses to the crisis has meant that our relationship with basing services on evidence has been challenged. How do we know whether what we're doing makes a difference and do we need to show the difference made as the world changes with such speed around us?
We hope this will be an opportunity to step back and reflect with peers on the work you have been doing. It will be an interactive event and a way of sharing your experience, the challenges you have faced and how you have been able to tell your story.
To sign up, please book here. You will receive the zoom link on the morning of the event.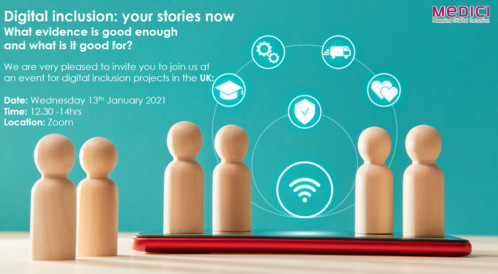 Subscribe to our newsletter