The deadline for applications is approaching – 2nd September
Deepening Creative Practice with Organisations is our unique, boundary transcending programme that weaves together the arts and social sciences to allow participants to explore their whole selves.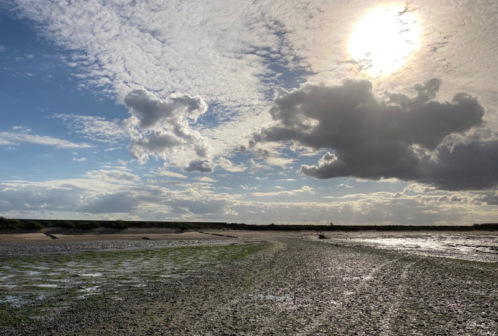 The image above is of the English coast in Essex, UK (the Dengie Peninsula, to be precise!). It's a place I often seek out as summer turns to autumn – with its open skies and space, it allows me to breathe deeply, expand my horizons, reflect and re-charge before the days close in and the end of the year gets nearer. As we continue through uncertain and unstable times, finding this kind of space seems even more important. Deepening Creative Practice is also a way to find such space, and the 2021/22 programme is soon starting.
If you are wondering how you might resource yourself and your work over the coming year, applications are open for DCP until 2nd September. If you are still thinking about applying for a place, please do so soon to avoid disappointment. And if you'd like a conversation first, please email Emily Kyte and we can arrange a chat with Juliet Scott or me over the coming days.
Just as a reminder, DCP 2021/22 commences in October 2021 and comprises four seasons, plus a fifth exhibiting season. Further details are in the brochure and on our website.
Whatever you decide this year, I hope you too get chances to expand your horizons and nurture yourself, whatever the next year holds.
Best wishes,
Heather Stradling
Co-Director, Deepening Creative Practice