our clients, colleagues, alumni, national and international partners and friends of the Tavistock Institute of Human Relations.
Hear our handmade seasonal soundscape by playing the video above (make sure you have your volume on)
Santiniketan Sishutirtha was created in order to care for children in the rural areas of Birbhum district, West Bengal, India. The goal is to provide these children with a protected nurturing environment that not only protects them from harsh poverty but also provides them with the skills necessary in order to become self-sufficient for the future.
The project encompasses an orphanage and a school in order to do this. The orphanage provides a 'family like' environment to orphans and destitute. The children are placed under the care and custody of a suitable supervisor or mother and brought up in an atmosphere of love and affection.
There are 10 boys and 10 girls. They all come from very poor families mostly from nearby villages within a radius of 15 kilometres. All of them are destitute orphan children.
On week days the children get up early in the morning, sit for a prayer where they sing a song and sit quietly for two to three minutes facing the rising sun. Then they have a light breakfast, do a little bit of cleaning and gardening. After this they wash and go to school. During tiffin time the children come back for tiffin and go back to school again.
After school the children come back for lunch and rest. Some of them use the rest hours for different hobbies. In the afternoon the children go for games. After the games they meet for another prayer after tea. Part of the evenings are spent for singing lessons. The best part of the evening is spent doing homework and craft.
The school provides a craft-based education which is extended to children of the neighbouring villages. This complies with the 4 basic rights of children that were defined in the 1989 United Nations Charter to which India is a signatory.
Right to Survival .. to life, health, nutrition, name, nationality
Right to Protection .. from exploitation, abuse, neglect
Right to Development .. to education, care, leisure, recreation, cultural activities
Right to Participation .. to expression, information, thought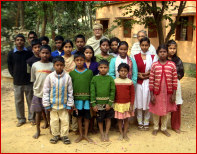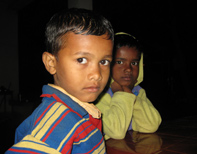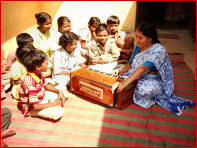 Subscribe to our newsletter