The Tavistock Institute is part of Fair Share, an EU-wide free online training platform for fair trade entrepreneurs, employees and volunteers.
Through the collaboration among Fair Trade Operators (FTO), Universities and research institutes, and representatives of the Education and Training Centres, the Fair Share project has developed an online training platform for the Fair Trade (FT) sector. This flexible multilingual e-learning tool has been developed including the diverse needs from FTOs and the informal learning contexts, as well as, frameworks of formal educational systems, especially schools and universities.
In addition to Tavistock Institute,the other Fair Share partners are Laurea University of Applied Sciences, University of Liege, Academy for Social Entrepreneurs, Monimbò, Spanish Confederation of Education and Training Centres and Equo Garantito.
Further information on the project can be found in ENG, IT, ES, FR and FI.
Context
With the growth of large and small corporations across Europe, fair trade enterprises collectively form a sector qualitatively different to conventional trading firms: fair trade enterprises are committed to a long-term trading partnership with producers based on dialogue, transparency and respect. Given the lack of specialised support to this sector, Fair Share offers the opportunity for fair trade organisations to up skill staff, learning business and leadership skills through a modular course with other fair trade entrepreneurs and stakeholders from across Europe. Fair Share platform provides also resources for awareness-raising and education about fair trade and social economy within the schools' and universities' frameworks.
Objectives
The first objective was to
meet the training needs
found by the FTO, considering that all informal and formal levels of education can provide relevant training. After developing the competences framework for the FT sector, different learning paths were defined according to roles in the sector (volunteers, workers, entrepreneurs, consumers …) and their specific needs. To do so, different modules were designed and delivered in
several languages
. Fair Share training models were tested across several countries in Europe using the
Fair Share platform
created ad hoc.Moreover, the second objective was
to support the Fair Trade sector development
.
Capacity building
within the sector, and promote
political visibility
have also been a relevant part of the process of a wide range of European agents interested in social economy working together.
Methodology
The Tavistock team has designed and delivered the
outcome evaluation
, through the combination of Kirkpatrick's training evaluation model and the theory of change mapping. Tavistock Institute has also provided
formative evaluation
to support the team work, collaboration and leadership within the partnership, based on the
appreciative inquiry
approach. Moreover, we have designed and delivered two modules on
leading change in FT
organisations and on
working through FT management issues
, combining
experiential learning through online tools
with leadership and sectoral approaches.Within an action research approach, the Institute has worked with the partners and platform users over the different steps of planning, implementation and evaluation of results to keep improving the FT practices, strategies and knowledge.
Impact
Capacity building
has been a significant project impact. Development of new capacities, such as training, digital and social economy competencies, within different partners have been highlighted.At
sector level
, this project has enabled the collaboration of a group of stakeholders who keep working together after the end of the project to sustain and
further develop
the
online training platform for the fair trade sector
. The current functioning of this tool and the possibility of affordable training adapted to the specific needs of the FT sector is in itself a relevant impact. Moreover, thes online, modular and multilingual characteristics of this platform could foster learning and relationships within the FT sector, as it can easily be used and develop in collaboration with all the agents in the Fair trade chain, including producers.In relation to the
EU
political agenda,
the
Fair Share manifesto
is aimed to empower the fair trade community through the collaboration to sustain and improve training and development opportunities adapted to the diverse needs and contexts of the fair trade community. Moreover, the Faire Share activities have approached several EU political objectives, supporting
entrepreneurial and digital skills
, reaching especially
young people
and those without full-time jobs. Different objectives and targets of the
EU education policy
have been impacted, from the school to university, and through lifelong learning approach. The majority use of the platform by
women supports the idea of the digital context as an opportunity
and the
ICT tools as empowering instruments
for learning and change. Thus, the project has supported to widespread in the practice the
EU objectives
of a sustainable development, highly competitive social market economy, aiming at full employment and social progress economic, social and territorial cohesion,
equality between women and men
and the promotion of scientific and technological advance.Learning about product and service development processes, on participatory strategies to include stakeholders and beneficiaries within the service development as well as testing and piloting new
e-learning programmes
across EU countries have been relevant for
capacity building
in organisations working across the EU. Indeed, as stakeholders and community are concerned, awareness-rising, mutual learning and wider debate about fair trade, social economy and training and learning opportunities have been constant. Other
EU projects
, such as
Social Seducement
, have introduced some project findings into their development, so stakeholders' needs and potential use are maximize as much as possible.
Results
The main results have been the flexible online training platform, a
pedagogical model
designed for different Fair trade stakeholders, the design of eight modules on fair trade, some adapted for different contexts and languages, and a
teachers and trainers guidelines
to use the platform. Through their use, Fair Share provided training to more than 800 users, involving more than 60 teachers and more than 30 modules to test the platform. From about 27000 visitors to the platform, 400 trainees piloted the Fair Share modules and received training on specific fair trade competencies over the piloting phase.Their feedback provided by pre-training and post-training surveys, as well as through individual interviews months after finishing the training has allowed a
participatory evaluation
to keep improving the training. Stakeholders and user's participation in the iterative process of the product and service development has been also a relevant result, as considered key for Fair Share training sustainability.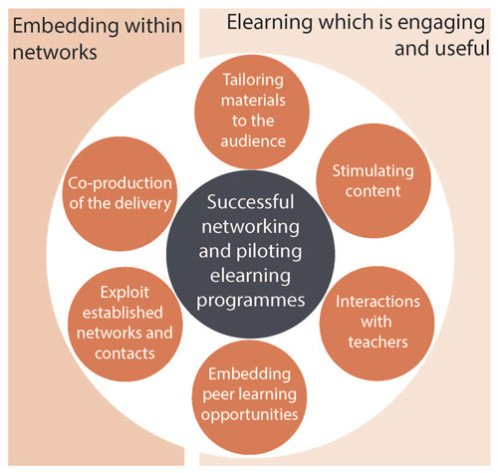 The TIHR team consists of
Cristina Castellanos
,
David Drabble
,
Coreene Archer
,
Giorgia Iacopini
and
Kerstin Junge
.You can follow Fair Share on
Twitter
or
Facebook
.
Client/ Beneficiaries Quote
"
I found the module very useful for who like me wants to engage and raise awareness of fair trade to children but also to others – young people and adults as well. I also think it could be transferable to other areas, as some of the practical suggestions on how to raise awareness can be used in other fields. The content of the module was very comprehensive. So, my experience was really good, I found it very satisfactory
". Platform user
"Using the platform increased my awareness of the potential of online training, and the requirements of time and preparation, it needs for a really well preparation. This experience has reduced my scepticism on online training"
Fair Share teacher
"The different skills and expertise of the partnership were a success factor: we now have a good platform, we have knowledge of the needs of the fair trade sector and we developed a pedagogical framework. This would have not happened at all, had it not been for Fair Share"
Project partner
"
I've used multiple online training before, but this one is very interesting and easy to use in comparison to others. It functions very, very well. It has been a very positive experience."
Fair Share trainee
"We were able to pull together our different strengths to achieve a good product"
Project partner
"The "exclusivity" of the topic of fair trade of the platform, it's very useful that everything is together and very accessible. It's free and a very comfortable platform. It creates a network around fair trade. I was already convinced of the advantages of using IT for learning. But using the platform has reinforced my previous support, skills and confidences about open-access content and IT tools, as well as my engagement with fair trade. The platform made me more conscious."
Fair Share teacher