This talk by Camilla Child and David Drabble explores the real stories and transformative effects of care navigators and outlines how a socio-technical systems approach can facilitate successful organisational change.
Care Navigators work in the space between health, specialist care, voluntary sector, social care, community and family. Research by the Tavistock Institute of Human Relations (TIHR) and others has shown that navigators can be adept at addressing health inequalities, systemic integration and broader integration between the public and third sector. As a junior staff member with high organisational expectations, there needs to be a good fit between the Care Navigator, the culture of the organisation, and the support provided. When things go wrong navigators feel their hierarchical position keenly and can become the repository for difficult emotions in the organisation and, more painfully, may feel the trauma of patients without being able to help them. If Navigator roles are not clear and they are not well supported, they can find themselves overreaching their role and may seek to help clients as well as navigating them, working against the idea of the self-managing patient.
Given cuts to health services, navigators are seen as holding a cost-effective and potentially transformative role able to improve self-management, prevent serious mental/physical illnesses, and provide patient vulnerabilities with a genuine space within the health services.
Recording of the talk
Click the arrow to play audio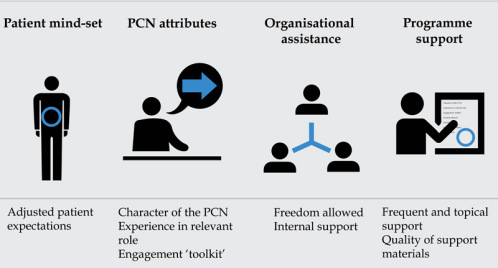 Camilla Child is a Principal Consultant and Researcher at the Tavistock Institute. She worked first in the evaluation and research team at the Institute and for several years the main focus of her work is in organisational consultancy. She is most happy when bringing these two strands together to help individuals and organisations develop and change.
David Drabble is a Senior Researcher and Consultant at the Tavistock Institute. He has been the lead evaluator on four evaluations of Care Navigation programmes in the past two years and is often employed as a research methods expert. He has a passion for communicating information clearly and attractively and is currently a PhD candidate researching the effects of language on global teams.