Reflecting on a recent feasibility study for the Forces in Mind Trust.
Sometimes you learn more from facing challenges than from success. In our latest research report, this was definitely the case.
Last week, the Forces in Mind Trust (FiMT) published our feasibility study on Primary Care Navigation for Armed Forces veterans.
I think both these terms need a bit of unpacking.
First, Care Navigation is a system used to support people who are 'lost' in health and social care services to find out where they can get help. At the Tavistock Institute, we've done three evaluations on Care Navigation, for people with diabetes, long-term conditions, and cancer, so we have a good range of experience in the area.
Second, a veteran is anyone who has previously served in the UK Armed Forces for at least one day. Given one of the founding projects of the Tavistock Institute was the resettlement of veterans after World War 2, this target group was familiar too.
The definition of veterans is inclusive so veterans are a difficult group to navigate from within care services, mostly as they can't be identified through their health conditions by services. At the same time, there is a pressure to find and support veterans from the Armed Forces Covenant which mandates that veterans should receive priority treatment in Secondary Care (i.e. hospital and outpatient services) when their condition is a result of their service.
In practice the Covenant is hard to implement for demographic and cultural reasons: veterans are a diverse group, with complex needs. The culture in the Armed Forces is usually of self-reliance and that can lead to poor health seeking behaviours. Finally, despite the large number of veterans' services, finding your way through these can be like navigating a maze. Together, these issues present a puzzle to Healthcare Services which is not easy to solve.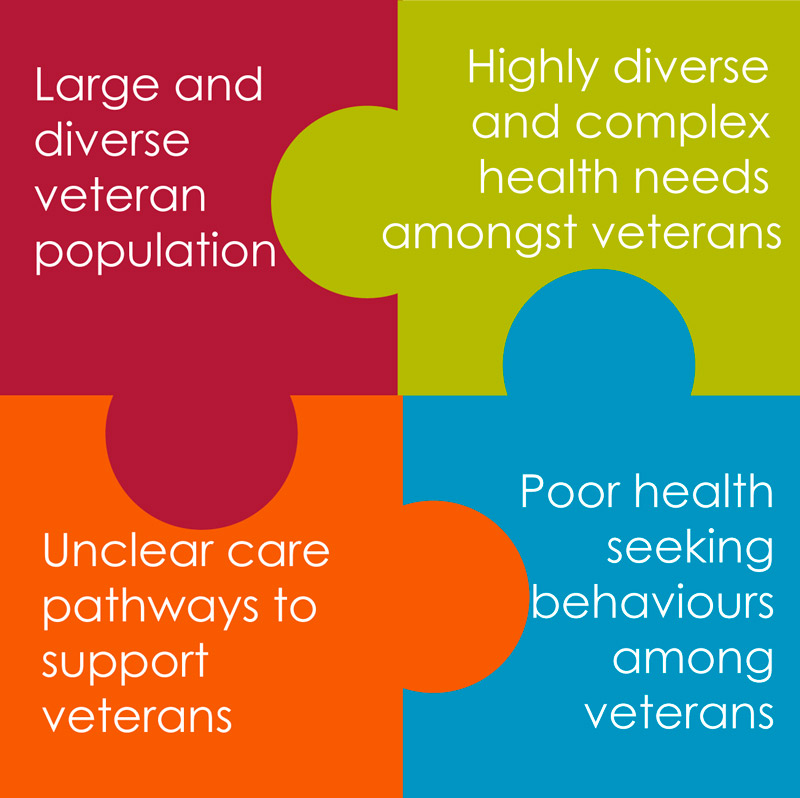 The jigsaw of issues facing Armed Forces Care Navigators
We tried to address these issues in this project. The project was an experimental pilot, funded for a year by FiMT, where we worked alongside Birmingham Community Healthcare NHS Foundation Trust and the Defence Medical Welfare Service (DMWS) from July 2017 to July 2018. We worked in an action research capacity, to shape and assess the feasibility of the navigation model developed.
The project team hired a Care Navigator, who was a trained social worker, to work with GP surgeries to identify, meet, assess, refer and follow up with veterans who were in need of support. She was supported by a service delivery manager and a project manager who mainly worked at a strategic level to integrate veteran's services and train Primary Care staff.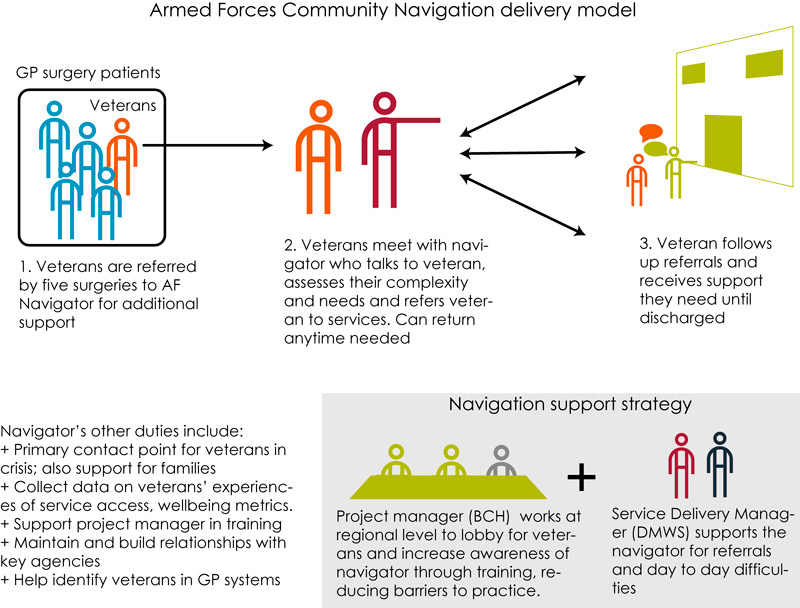 The Armed Forces Care Navigation model
For a one-year pilot study, the project achieved a lot. However, the issues related to veteran health seeking behaviour and the lack of awareness of veterans in Primary Care meant the project did not achieve it's delivery aims, only navigating 19 veterans over the course of the project. Somewhat unusually, the cases presented were of far greater complexity than normal for a navigator project: nearly half the veterans had a severe or exceptional level of complex needs. In these cases, basic quality of life issues like rehousing had to be dealt with before referrals could be taken up.
The cases seen by the navigator were usually complex for a navigation programme
Dealing with complex cases was actually possible in this case because the Navigator was an excellent case worker who was given appropriate training. She was supported by strong organisational processes including planning processes, steering committee support, well-articulated policies, clinical supervision, scheduling and following up appointments.
To assess the feasibility though, we found a care navigator project such as this needed a wider range of supportive factors to be successful.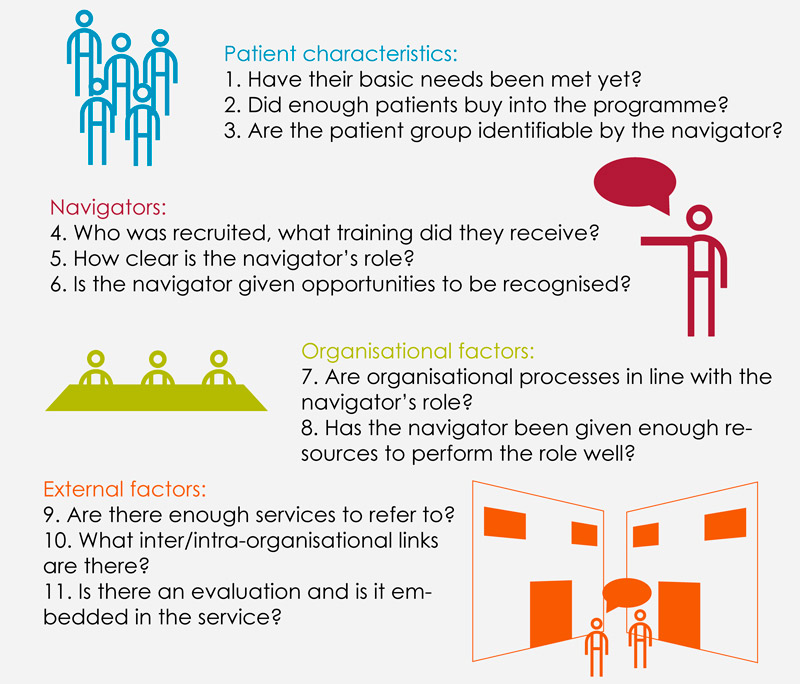 11 factors that support success in Care Navigation programmes
In this case, we found that there were particular problems in three areas: the navigator role (5), patient identification (2) and external engagement (10).
Bad coding
Many veterans couldn't be identified and some were misidentified. The project discovered after starting that veterans were being inconsistently coded by Primary Care services: the veteran's code was 'Left service', which was sometimes interpreted as no longer requires treatment, for example, for diabetes. As well as this, few veterans volunteered that they had once been in the Armed Forces.
Social worker or navigator
The complexity of cases meant that the navigator could not simply refer patients to services: many cases were in precarious housing, malnourished or had substance abuse problems. For these cases, the navigator became a social worker and advocated on the behalf of patients. This led to the navigator role becoming stretched and hard to contain.
Show me the money
Finally, the links between Primary Care and the project team were weak. In other care navigation projects, GP surgeries had been financially incentivised to take part. In this pilot, the Armed Forces Covenant was assumed to be enough to motivate services to take part. Given NHS funding cuts, few of the surgeries who initially signed up to the project gave sufficient time to the project for the model to be a success and the navigator had to find other ways to access veterans, including charities, the City Council, Post Offices, Working Men's social clubs and supermarkets.
So what does veteran care navigation need?
For these reasons, we found that the delivery model that was developed with not feasible for the UK veteran population. Our study suggested alternative models of Care Navigation, all of which emphasised three conditions:
Preparatory work to identify veterans
Focusing on simple cases
Strong links with NHS services
Care navigation is a model that works, is cost-effective and integrates healthcare so all can benefit from available services. But it needs to be tailored to the population and the organisations it's working with to be transformational.
David Drabble
Senior Researcher / Consultant at the Tavistock Institute