Bricolage into activism in the arts and systems psychodynamic approaches of Deepening Creative Practice.
Bricolage meaning: the construction or creation from a diverse range of available things; something constructed or created from a diverse range of things, "bricolages of painted junk".
This article explores timely examples of the bricolage at play in our transdisciplinary working across art and social science. It draws on contemporary experiences and the Tavistock Institute's partnership with an arts organisation, Entelechy Arts, that has been working on the frontline of Covid-19 both in care homes and with vulnerable adults.
Entelechy Arts' work has run parallel with one of the authors' personal experience during recent months as the daughter of a care home resident and friend of someone suffering a mental health crisis. She has found herself on one side of some impermeable boundaries – the most difficult of these not being able to visit her mother in her care home from March to June, only recommencing now.
Faced with these barriers on an altogether different scale, Entelechy Arts in their pre-Covid form were running: tea dances for elders; guerrilla exhibitions in care homes; Echoes at Home; giving bedside performances for those nearing the end of their lives and staging public improvisations with people with profound and complex learning disabilities.
What were they to do when these connections were broken in March, and how could they maintain support during the unfolding trauma amidst detachment from those they loved and served?
One of the things Entelechy artists have done is to create a series of video 'letters' or artworks to the people that they usually sing, dance and perform with weekly. A deep reflection on their role resulted and was partly enabled when Rebecca Swift, Creative Director at Entelechy attended one of our Food for Thought Lunchtime Talks about our work with a school that experiences repeated bereavement. Rebecca described a light bulb moment that gave meaning to her and Entelechy's work. It was an insight that moved them away from the role that many arts organisations working in the social care sector are given, as extended care providers, to a role that is more activist and political.
The light bulb moment for me from the Lunchtime Talk is probably obvious, but one we don't have time to consider enough at Entelechy, because we are so busy and it's often just under our noses. The understanding I gained from the talk confluences beautifully with conversations I have had recently with the artist teams working closely on the ground in care homes. The artists have often spoken about how the responsibility of the work can be terrifying – they are working on the boundary of what is normally 'bounded' (and hidden from society) over a threshold into being seen. We are working directly with society's social defence systems – hence the fear. Like care staff and family members, we may feel those projections on behalf of the people we work with.
This all became much clearer to me due to the Lunchtime Talk, when the word 'bounded'? or 'tightly held bounded culture' was used to describe the Special Educational Needs school. I then thought about this quality in relation to the outside world. A protected ecology and safe from the outside world, the school being a place where you fitted into and belonged to – away from society's misperceptions.
As the conversations continued, I was reminded of an article1 which quoted the work of poet and psychoanalyst Valerie Sinason, and which I had read on my studies at the Tavistock and Portman NHS clinic on 'Working with Groups'. They describe how society unconsciously wishes that children and people with complex disabilities don't exist. The same of course goes for when we become frail and older, hidden away in care homes. Sinason (1992) suggests that 'people with a learning disability are well aware of society's wish that they had not been born'.
Entelechy works on the boundary or the threshold between the bounded away and the outside world – between invisibility to the outside world to visibility and impact on the world. Therein lies the fear and sense of risk we and our communities might feel in our work because we are engaging with our own and society's 'suppressed aggression' towards those of us who are behind a boundary not seen. Visibility means we move over a threshold of pain. Our artists often sense this whilst trying to focus on the creative work that is being co-created and the strong bedrock of relationships from which the work arises. Visibility can feel like the unbounded."
Rebecca Swift, Creative Director, Entelechy Arts.
The bricoleur, in this case, is the working between the arts and organisation, using a systems psychodynamic lens as a diagnostic for the state of these organisations. It's about picking up other tools such as liminal rituals and practices from anthropology that enable sight of a role for Entelechy and its artists that is more meaningful and enabling – where the boundary between the organisation and the outside world softens from a wall to a veil.
This is what we mean when we say we will not flop into the utilisation of the arts in our work interactions and co-curation of the Deepening Creative Practice (DCP) programme. Our interest is to foster this capacity of creative being, role taking and activism illustrated in this example of working in our times.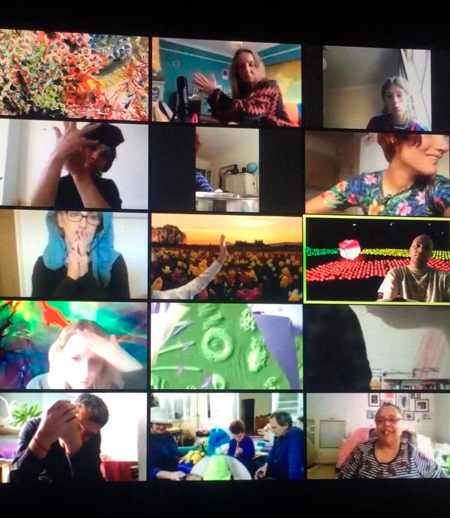 'Two Worlds' – an improvisational exploration of communities coming together. Image Credit: Assia Ghendir, Entelechy Artist
Rebecca Swift again: "Art as activism finds itself on boundaries between worlds, situated on many intersections of arts, health, social care, well-being, innovation, professions, organisations, site, and architecture. Boundaries here are tangible, like a building and obvious lack of access, or more subtle like different variances of our social or organisational defence systems. Our work feels like an act of map-making or re-mapping, often out of the rubble of these societal boundaries, and in collaboration with communities in bringing attention and value to unacknowledged spaces and experience, other ways of being."
This article was co-written by Juliet Scott, Programme Director of Deepening Creative Practice in Organisations and Rebecca Swift, Creative Director at Entelechy Arts. Entelechy are artist contributors to the DCP programme and their contribution to this year's Autumn Season was 'Two Worlds' – an improvisational exploration of communities coming together. This writing evolves from Juliet's and Rebecca's work together towards this event.
Applications for Deepening Creative Practice 2021-22 are now open. Find out more about the programme and register your interest here.
---
1) Jones, R., Harrison, C., and Ball, M., (2008) Secondary Handicap & Learning Disability: A Component Analysis in Mental Health and Learning Disabilities Research and Practice, 2008, Vol 5, 300-311