a new company begins to grow…
We are delighted to announce the inauguration of the Tavistock Institut gGmbH, which has been established as a not-for-profit company in Germany in order to retain our strong and focused connections with Europe.
Dr Eliat Aram, CEO of the Tavistock Institute says
"We are working (and have a long history of working) with European Union institutions – the European Commission, the European Parliament and Eurofound – on numerous projects. Moreover, we have always worked with many different organisations in all parts of Europe and a significant proportion of the participants on our training programmes travel in from Europe."
The uncertainty around Brexit has emboldened us to be proactive in creating a company so that we can continue our European work smoothly and with consistency – with Germany as our homebase.
The purpose of the new company is improving working life and conditions for people within organisations, communities and societies. For this purpose, we will be conducting research and evaluation and offering training courses. The aims of the research and evaluation are to assess the quality and impact of various projects on the wellbeing of people in all areas of work.
Some of the Tavistock Institute's current and recent European projects:
InterReg 2 Seas: a partnership across 4 European countries creating innovative methods of development for low-skilled young people, or people at risk of losing their jobs, leading to successful apprenticeships and stable employment.
RESILOC: Resilient Europe and Societies by Innovating Local Communities: a very large 3-year project with a total budget of over €3 million, conducting research and building community-level capability within cities. Our main role is to lead on the analysis of existing evidence on what is already known about building capacity in societies and communities – but we will also be leading on other tasks, including reviewing the success of the new strategies, and verification of the new platform(s).
Designscapes: exploring how design enabled innovation can help produce new solutions for dealing with wicked problems in our cities.
Textile and Clothing Business Labs: building a multi-faceted business ecosystem of sector enterprises, innovation labs, service providers, and business advisors, all working together to transform the Textiles and Clothing industry.
SocialPlaNet: Game-based learning for collective social entrepreneurship – a serious online role play game developed with six partners from five European countries. The game is currently being used to teach undergraduates in a UK business school, and finding out if similar degree programmes internationally can benefit.
EmerGent: the impact of Social Media in emergencies. The project objective was to raise the security of citizens before, during and after emergencies and to strengthen the role of European companies supplying services and products related to EmerGent's results. See report in German.
Gender Pay Gap: research, networking, mutual learning, implementation of initiatives, awareness-raising and dissemination activities to develop a deeper appreciation of the problem and exploring new solutions.
NEETs in Action: a European research project: community networks for young people who are neither in work nor training: NEET. Developing an innovative model to be piloted in Italy, Spain and Portugal.
Eliat Aram and Mehul Patel, our Head of Finance, recently visited Frankfurt and Cologne to complete the sign-off and registration process of the Tavistock Institut gGmbH. The new Institut will work in collaboration with our partner organisation, oezpa Akademie & Consulting GmbH, who specialise in training and development based at the Schloss Kloster Walberberg, Cologne, Germany.
We have a long-standing relationship with Hὒseyin Õzdemir and Barbara Lagler Õzdemir, the Directors of oezpa and see our new company as an opportunity to build on and consolidate activities together.
The Directors of oezpa say:
"Welcome to Germany at our offices! We are delighted and highly energetic about this strong formal cooperation with the Tavistock Institute and the collaboration with the colleagues in London and Germany. The long-time professional connection and the creative exchange is now embedded in an even stronger foundation."
We will be sharing office space and administrative facilities with oezpa and are very pleased to be raising a glass to our new and exciting mutual endeavours.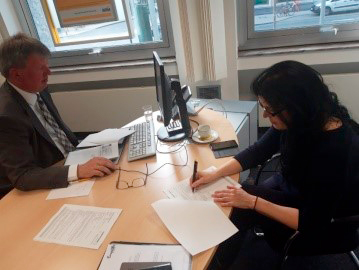 Dr Eliat Aram completing the registration process of the Tavistock Institut gGmbH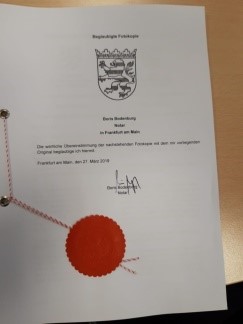 Contract signed