Come and visit our art/organisation exhibition
After months of hard work and going back and forth – from our graphic designer to the printers, and back – our exhibition catalogue for Sentient Excavations is finally where it is intended to be – in the office, accompanying the artworks of Juliet Scott and Simone Kennedy. It completes their exhibition, giving context to how it came about, and how the Institute arrived at where we are now – weaving together art and social science.
The catalogue is an homage to the work that began a decade ago – a journey into the Institute's archive, which not only inspired the artworks on view, but also marked the establishment of arts and organisation work at the Institute. In Scott's Object Relations, the artist responds to Object Relations cards found in the archive, reflecting on the dynamic excavation of history. In Kennedy's works, archival influence is also visible – after starting her residency with us, she researched John Bowlby's archive as part of her ongoing exploration of attachment theory.
With statements from both artists, our CEO, Dr Eliat Aram, and myself, co-curator of the exhibition and editor of the catalogue, this publication paves the way to more art, more experimentation, and more exploration of the bridges between art and social science within the Institute's work. But it did not just happen overnight…
There was a whole process before arriving at the final version: we experimented with different colours, textures, and designs. Different images and different layouts. But we knew one thing from the very beginning – that we wanted to work with Risograph printing, which is not only environmentally-friendly, but also references the grass-roots history of self-publishing and feminist struggle.
Invented in 1986, due to its cost-effectiveness, riso printing gave rise to the zine – probably the most popular form of self-publishing, which egalitarian format particularly appealed to third-wave feminists of the 1990s. A zine is a non-commercial, non-professional, small-circulation magazine produced, published, and distributed by the creators themselves. Hence its popularity amongst feminists and different, underrepresented groups – people who did not have a voice or whose voices simply wouldn't haven't been heard otherwise.
All this history is still visible in riso aesthetics: rough and minimalist, using bold contrast and vibrant colours. It has a particular depth to it that cannot be substituted by any other printing technique… it also has a handcrafted feel and a personal touch to it – a lot of care is put in the riso process, since it's not so easy to get it right. Sentient Excavations and Sentient Explorations – if there is a sentient way of printing, it is risograph printing. Its ephemeral, feminine quality perfectly corresponds with and complements the works on view. The works of two authoritative women, which, though very different from each other, here seem to speak in one voice.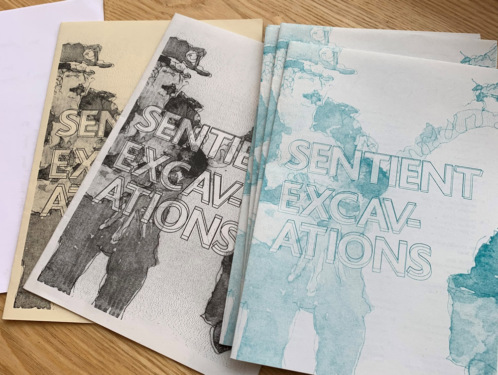 If you would like to see the fruits of our work and hold the final result of this sentient catalogue journey in your hands, please visit us at 63 Gee Street.
Maria Markiewicz
Curatorial Assistant
To schedule your visit, contact Maria.
You can view a PDF version of the catalogue here.